G2 Crowd ranks Lexbe as the best eDiscovery solution for speed of Return on Investment
G2 Crowd, an online software grading platform, validates users before administering a 60 point questionnaire to gain in-depth feedback on various software applications. Their analysis of eDiscovery platforms places Lexbe in the lead on 6 out of 7 key metrics in determining Return on Investment (ROI).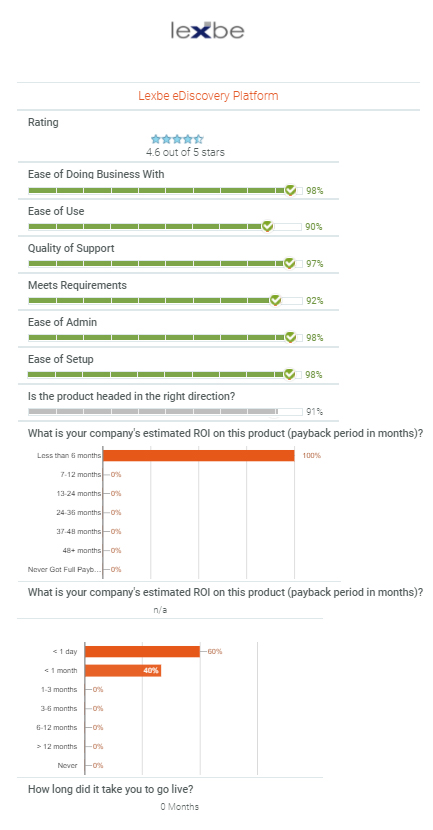 Lexbe won against competing eDiscovery services including Relativity, Next Point, Logikcull, and others in offering faster ROI (within a month by G2 Crowd analysis), and higher scores in nearly all customer satisfaction benchmarks.
G2 Crowd Findings:
Ease of Doing Business With: 96% –
Lexbe offers straightforward pricing with flexible solutions for any-sized firm.
Ease of Use: 90% –
Intuitive design and smart technology offers users an easy-to-use eDiscovery platform.
Quality of Support: 97% –
Lexbe's Professional Services team members are ACEDS certified and can provide technical expertise with the complex parts of discovery. Additionally, all accounts receive an on-boarding training session as well as ongoing weekly training classes at no cost.
Meets Requirements: 92% –
An end-to-end solution, Lexbe allows users to process, analyze, cull, review, and produce large discovery collections quickly and securely.
Ease of Admin: 98% –
Smart technology offers enhanced administration tools allowing eDiscovery managers to keep their team firing on all cylinders. Worth noting, Lexbe performed 25 points higher on this metric than Relativity.
Ease of Set-up: 98% –
Lexbe's cloud-based eDiscovery is instantly deployable with zero set-up time or maintenance required.
G2 Crowd polled verified Lexbe users to determine that the average Return on Investment took less than a month for most users. This impressive metric offered the fastest turn-around time on an eDiscovery investment among the platforms included in the study.